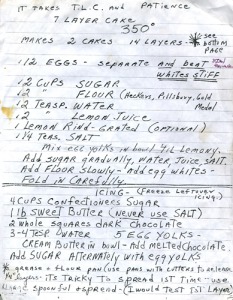 FAMILY RECIPES
Every family and extended family has memories of gatherings and celebrations, and food plays a big part in those memories. Soon you will see recipes posted here that bring back memories for us. Near and dear to our hearts is "Grandma's Seven Layer Cake," which we have many variations of! Click on the link under each description to download a pdf of the recipes.
---
DESSERTS /CAKES /COOKIES
The INFAMOUS SEVEN LAYER CAKE (DOBOS TORTA)
This cake is really called a Dobos Torta. In our family, it was made on special occasions, and when another family member made this cake, it seemed to magically call out to the rest of the family – and soon someone would be ringing the front doorbell saying "I thought I would stop by today – oh look! You've made Grandma's Seven Layer cake!"
Seven_Layer_Cake
Dobos Torta from the Budapest Hilton Recipe
Here is a recipe torn from a magazine many years ago. It is a recipe for the traditional Dobos Torta provided by the Budapest Hilton. You might want to read this one before attempting Anna Murin's version- It is probably more accurate, however, Anna's is our family recipe and it's the one we use! There are more family versions (Americanized) of this cake, they will be posted in the near future.
Dobos_torta
---
CREAM CHEESE COOKIES
Who could forget the taste of Anna Murin-Schwabik's Cream Cheese Cookies! They were amazing! Auntie Anna is the one who still makes these and they are great!
Cream_Cheese_Cookies
---
GRANDMA'S WALNUT TORTE
This Grandma's Walnut Torte- Anna Murin Schwabik's recipe of course. This is a very flat and very moist cake that is delicious! Anna used this huge grinder to grind up the walnuts. Now we have electric mills that grind walnuts in a snap! But the taste is still the same.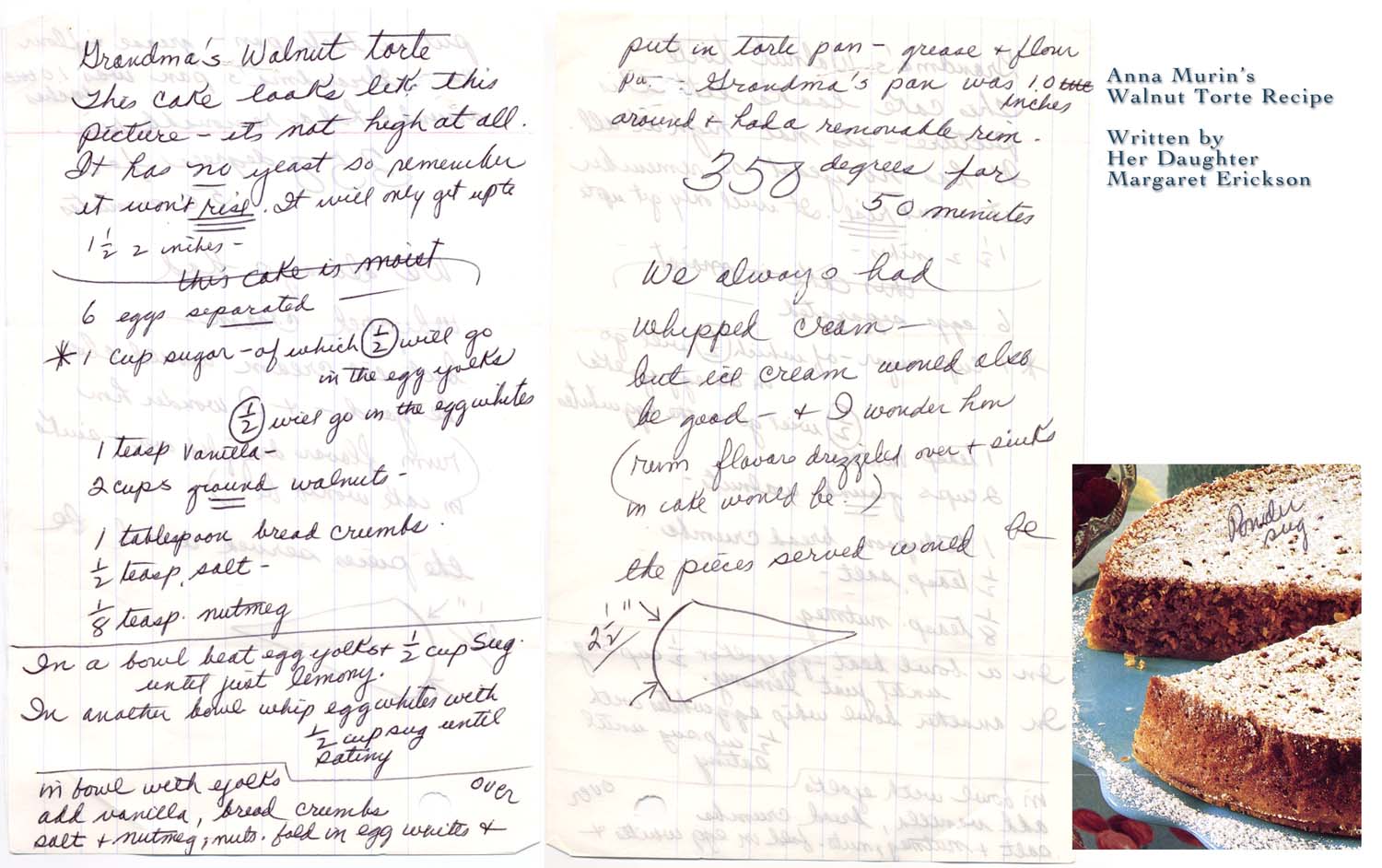 ---
 MAIN COURSES /MEALS
SZEKELY GOULASH
This is Anna Murin-Schwabik's SZEKELY GOULASH – Everyone, especially Uncle Bob used to call it "Sacred Goulash" because we couldn't pronounce 'SZEKELY'- Székely is a village in Szabolcs-Szatmár-Bereg county, in the Northern Great Plain region of eastern Hungary.
Szekely_Goulash
---