Introduction
This is the story of the Schwabik /Brodak and Schwabik /Murin family in the United States. The facts are stated as true, and anything that is conjecture is indicated in italics. We started much of this research many years ago—countless hours have been spent learning and searching small facts to connect-the-dots and tell the tale. The bulk of the US based research was done by our family. Relatives have received countless e-mails asking for photos, information, recipes and more. THANK YOU for humoring us!  We indeed have living relatives in the Slovak and Czech Republic and are now in contact with them. A Cousin in Bratislava has helped with translations and acted as a 'tour guide' on our trip to Slovakia. Other US family members also contributed information, stories and photographs. Other dedicated family researchers have contributed who continue to track and write their own Schwabik family history—alas most of the other family is not connected to ours, however the sharing of information and photographs continues.
The bulk of the data came from the LDS Mormon church records—back in the days where we had to order and review actual micofiche. Now the records are mostly online. These were invaluable in finding actual birth, christening, wedding and death information from actual church ledgers. The Ellis Island database also helped unravel some of the puzzles and gave us valuable clues to family, destinations, and traveling companions. And finally, US Census data obtained through an initial subscription to Ancestry.com was useful and uncovered clues to family members, relatives, other people living with the family, and neighbors. We even found some family members we knew little about using the Internet—for example, we found the daughter of our Grandfather's sister, living just two hours away! There will always be mysteries with every family, but sometimes those mysteries leave open doors for the future genealogy treasure hunter. Members of our family visited Slovakia in 2003—our trip was amazing—to see the places where our grandparents were born was an unforgettable experience. Meeting blood relatives in Slovakia and Prague was life changing.
CHAPTER 2
(If we started with Chapter 1, we wouldn't be able go farther back, would we? We already have new leads that pre-date previous information – it is always best to leave the door open.)
So begins the story of our Schwabik family… in a small village called Hnilčík, now part of Slovakia. According to data from answers.com, the population today is 530 people and the first mention of the town in history dates to 1315.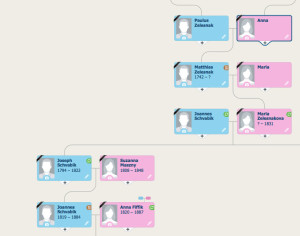 A young couple named Mathias and Maria Zelesnek (her maiden name is unknown to us) married and had six children: Mariam (April 8, 1770,) Anna, Catharina(April 12, 1772), Matthias, Michael and Joannes.
Daughter Marie Zelesnakova of Hnilčík met and married Joannes Schwabik possibly around the year 1793.  We have no record of their marriage, although their children were legitimate as noted in church records.
On March 2, 1794 they became parents: a child named Josephus Schwabik was born in Spišská Nová Ves. Little did Josephus know he would ultimately become the patriarch of the Schwabik family of America, and the patriarch of the Schwabik family in present day Spišská Nová Ves, nor would he in his wildest dreams know that people over 220 years later would be able to view his actual birth records. Josephus is referred to as "Josephus 1794" in this document.
Josephus-1794 had 4 siblings, with three brothers: Johannes, born December 9, 1796, Paulus, born January 19, 1799, Martinus born November 14, 1807 and a sister Maria, born January 9, 1805. They all had the same Mother and Father and all were born in Spišská Nová Ves (aka Iglo or Zipser Neudorf.) According to church records, we found no paper trail on Johannes – no marriage, no children that we found. Paulus appears to have had four different wives, and eight children!  All four of his wives were named Maria! We are still working out the details on him. You will see his children listed in the family tree when it is posted.  Mother of the children, Marie Zelesnakova-Schvabik died in Iglo August 17, 1831 at the age of 51.
Josephus-1794 married Susanna Maszney. We've located at least nine women named Susanna Maszney born at about the right time, but are unsure which of them is our Susanna Maszney! We originally thought Susanna born in 1808 was our relative, but her age at the birth of her child seemed way too young…Geographically closest there is a Susana Maszney born to a Mother (Susana Maszny, no Father listed) in Martin, Slovakia, baptised May 16, 1974. She's a possibility but there is no way to know.
We have not been able to find their marriage records, in Spišská Nová Ves or any other town (yet.) Usually a marriage would take place in the bride's home town. We do not know the hometown of Susanna Masney. Radix index lists one name of Masszy [sic] from a town called Szolnok, which may bear further investigation. The records indicate only one child born to the couple on July 8, 1819, Johannes Schvabik. He was likely named for his Grandfather (Joannes 1770)  We do have the birth information from the church and the names of the parents, and child and birth date are correct. The birth is also called a legitimate birth, which would mean that the parents were married at the time. We have a death date for a Susanna Masney in Spišská Nová Ves of 1848.
We have no other data on Josephus 1794 in Spišská Nová Ves. There were no other children born of his union with Susanna, based on the church records. There is no record of his death in Spišská Nová Ves. In Chapter 3 you'll see how Josephus 1794 relates to our family, and the Schwabik families living now in Spišská Nová Ves and Prague.
---
Fellow Schwabik researcher Ernest Erenyi, who originally also claimed Josephus 1794 as his Schwabik family ancestor, has solved this mystery and discovered that Martinus Svabik and Theresia Better ('Betterin') were the founders of the Svabik clan in Tolna county.  Martinus Svabik most likely has no connection to SNV (Iglo), he was born around the year 1765, and at that time there were no Svabik (Schwabik) families in SNV.
Martinus and Theresia Betterin (also spelled Better, Peterin) were probably married around the year 1790. Martinus and Theresia Schwabik had a total of nine children, including a son named Andras who was baptized November 30, 1797 in Budapest, Pest-Pills-Solt-Kis-Kun County, Hungary. Another son named Josephus Schwabik who was baptized March 17, 1804 also in in Budapest, Pest-Pills-Solt-Kis-Kun County, Hungary. It is interesting to note that on various church entries the last name was spelled with the following variations: Svabik, Schvabig, Schevabig, Schvebilc, Szvabich, Svabyk.
This is the Josephus Schwabik married Anna Prandovski (Prandofsky, Brandofsky)— These are the ancestors of the Erenyi Schwabiks and the Schwabiks who lived in Tolna County, and likely the ancestors of Dr. Josef Schwabik (RIP) in Baja Hungary and his family. In 2020 we found that these ancestors also are related to Marian and Aurel Schwabik, the photographers and Josefine the painter. Small world, right?
So now we have identified two distinct branches of the Schwabik family.  There are many other Schwabiks we have found but have not connected any dots yet. You can read about them on the tab above marked "Possible connections."
Chapter 3
How is Josephus 1794 related to us?
Josephus 1794 married to Susanna Maszney had one child, Janos/Joannes Svabik (SIC) born 1819 in Spisska Nova Ves. He died in 1884. Janos/Joannes married Anna Fiffik (Pfiffig) and they had 11 children between the years 1840-1865. Our direct relative is Josephus J Schwabik born in 1861 and married to Anna Marie Lyach in the chart below. Josephus later married a woman we believed was named Ludmilla, but we cannot find any records of her other than a mention in his Daughter Marie's (Irma) Ellis Island record.

Josephus J and Anna Marie Lyach had 6 children, Adalbertus, Josephus, Margaretha, Rudolphus, Marie (Irma) and Franciscus Schwabik. Josephus born in 1885 came to the United States in 1900, settled in New York. He is the founder of the Schwabik clan that our family comes from in the US. He first Married Annie Brodak with whom he had two children, Louise and Joseph; After Annie's death in 1913 he married Anna Murin (b. 1888) in 1914. They went on to have three children, Helen, Robert and Margaret.
The entire family tree with all "connecting" relatives is up on Ancestry and MyHeritage. Thanks for reading about our family. If you think you are related connect with us on Ancestry or MyHeritage. Just look for the name "Schwabik!"